We have made the final steps in putting the bees away for winter. We tend to try get these tasks done a bit earlier than most folks in our area, I like to allow the bees a couple weeks to get any cracks in the hives propolized to their liking before the weather gets cold enough to keep them in cluster all day.
We have had good success wintering small colonies in our 4 way mating nucs over the years we have been using them, and this year we have another experiment in wintering happening. While touring the tradeshow at Apimondia, I saw the Lyson Mini Plus mating nuc, and really liked the concept. These are a styrofoam box that holds 6 frames, the frames are half length medium depth. The bottom has an entrance on two sides and the unit comes with a follower board that allows us to use it as 2 units of 3 frames during queen mating season, then remove the follower and build a colony to fill 6 frames for wintering. The unit comes with a top feeder that's divided so you can use it to feed 2 units thru the summer and then top up the whole unit with winter stores when fall rolls around.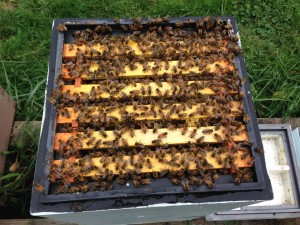 The photo is one of these units just before I put the lid on to do the final close for winter. I ordered 5 after Apimonidia to try these out this year. They worked well for us this season, so much so that I've ordered 20 more. One of the best things about them, I dont have to build any custom equipment for these units. They come complete with feeders and frames, lid, bottom board and the box for 6 frames, along with the follower that can split it into two units.