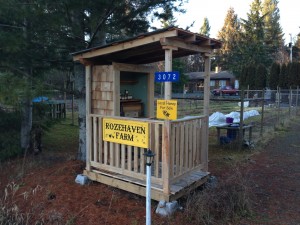 Rozehaven is a small plot located south of Campbell River near the Oyster River. The farm is a work in progress that started in August of 2013 when we purchased the property.
Spring products include honeybee nucleus hives and, in some years, early honey such as maple. Occasionally, overwintered nucleus colonies are available mid spring.
Summer honey is full of dandelion, blackberry, salal, and many types of fruit trees.  Queen bees  are often available from May to August.
In the Fall  honey from the fireweed patches north of Campbell River is available.
in 2019, Rozehaven began a new journey raising and purposely breeding Bull Terriers.  With the aid of mentors throughout the dog world, we aim to work to the betterment of this terrific breed.