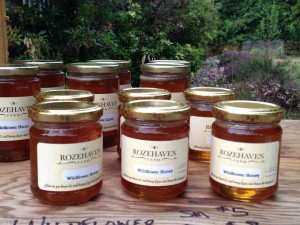 Available year round at the gate stand, our honey varieties are in high demand.
The spring harvest brings a limited supply of Raspberry honey, obtained by placing bee colonies at the Ocean Grove Raspberry Farm for pollination and honey production during the raspberry bloom. The spring wildflower is a collection of local blooms in the vicinity of the farm. Flowering in time for the spring harvest we have the apples, thimble berries and the salmon berries, as well as a myriad of other smaller blooms happening around the neighborhood.
The summer wildflower harvest is predominantly from the extensive local population of wild blackberries.
The fall harvest includes fireweed honey from the hives moved to the Mt Washington fireweed patch, as well as wildflower honey from hives here on the back lot. Fall wildflower honey typically comes from the extensive populations of asters, hawksbeard (looks like a dandelion) and a variety of other late bloomers in the area.