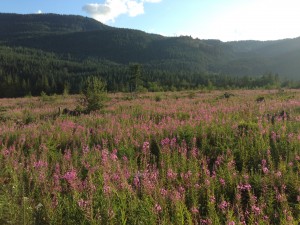 We keep track of the dates when various flowers bloom over the years. This turns out to be valuable information, because, every time we see something blooming early in the season our reaction is the same, WOW this is early. But, our memories aren't always correct, and when we go back and check the records, more often than not, the result is the same. No, it's not early, it's right in line with last year, plus or minus a couple days.
Bloom dates, combined with scale hive data, is how we measure the productivity of the various blooms with regards to honey production. We use the historical data to make decisions on how to manage the hives towards the ultimate goal of maximizing honey production. At the BCHPA AGM last fall, I promised folks we would make more of our data available for all to see, so for this year, I will try to remember to update this page as the season progresses, so everybody can watch the scale hive data, in conjunction with the blooms as the season unfolds.
Hazelnuts – Jan 17
Pieris Japonica – We have a hedge of these in front of the house, bees love them when they open.  We also watch another stand, located beside the hiway in town at the Husky Station, they typically bloom a week or two before ours at the house.  Today on Feb 14, the Pieris at the Husky station has some blooms open.
SnowDrops – Feb 14.  The SnowDrops in our front yard have flowers open for Valentines day.
Pieris Japonica – Feb 29.  Our hedge in front of the house, last year was Feb 28, so this is right in line with last year.
Dandelions – March 7 – In town in the grass by the Hospital. It's a week later than last year for that spot. March 29 they started popping up all over the lawn, last year was on March 21.
Cherries – March 23
Skunk Cabbage – March 25
Peach – March 29
Strawberries – April 10
Apples (Bel de bos Koop) – April 14
Wickson Crab – April 16
Blueberries – April 24 (A week later than last year)
Thimbleberry – May 1
Raspberry – May 6
Clover – May 15 – first clover blooms in the bee yard
Blackberry – May 15 – First blackberry in the bush beside the road where we turn off the hiway coming home. Last year, this bush had it's first flower in May 20