So 2018 bee season is now underway. Our first round of feed is pretty much consumed, and the second round they have made a big dent in already. Most of the colonies that didn't get hit by our 4 legged visitor last fall are looking good. An example.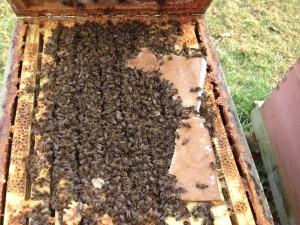 It looks like the patty is incorrectly placed beside the cluster. In reality, the first patty was directly over the cluster and the second round went on beside the first before it was finished. I took this photo just before I placed the third patty onto this colony.
We had an incursion by a 4 legged critter last fall.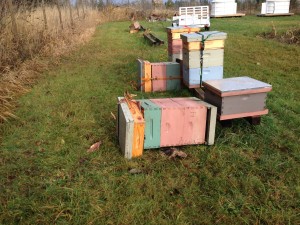 Not sure how long they were laying on the side like that, it happened while we were gone for some days. For those colonies that did get hit by our 4 legged visitor last fall, packages will be arriving this Saturday, March 3. I didn't expect any to survive, total of 6 knocked over. 2 are still alive, 4 were dead by December.
Other events as we approach the new season, the bee truck has been upgraded. The Ford Ranger was a decent truck, but, I'm a tall person, and that short cab was problematic for my long legs. We now have a 'new to us' 2000 Toyota Tundra in the parking lot, ready to approach a season of moving bees.