This has been the week of new toys around the farm. The week started with arrival of the shiny new JB700 oxalic acid blower, which should make the job of hitting the mites with Oxalic Acid Vapors a LOT faster. Using the older pan style vaporizer, it takes roughly 4 minutes per colony to do a round of oxalic treatments. After placing the pan into the hive entrance and blocking it, the unit has to be powered for a minute and a half to get up to temperature, then left in place for another minute to finish vaporizing. Add another minute and a half to take it out, reload, and prepare the next colony, works out to 4 minutes per hive.
With the new JB700, things change a bit, no, a lot. A single load of Oxalic in this vaporizer will do 4 hives, and it'll do them in under 2 minutes. You fill the pan in the vaporizer with the OA, turn it on, and about 30 seconds later the acid starts to sublimate. Turn on the fan and stick the nozzle into the entrance of the first hive. When you see the vapor coming out of the cracks at the top, move on to the next one.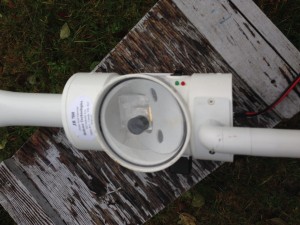 Wow. I took this shot 2 minutes after I vaporized the hives with the new JB700. If I had any doubt about enough OA in the colonies from a blast out of this thing, I dont anymore.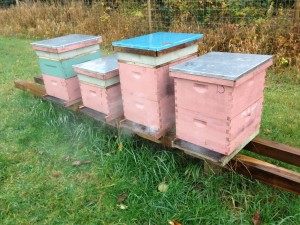 On my first outing, I did all of our colones (currently 18 of them) in 20 minutes, but half of that time was spent testing the new toy and getting to understand how it works. I ran one load of OA thru from start to finish with it just sitting on top of a hive to get a feel for how much vapor comes out of this gadget. This video shows the result. Do watch to the end when I walk around and take show the cloud of OA vapour drifting across the bee yard.
JB700 in action
If that wasn't enough new toys for the week, this weekend another one showed up on Sunday afternoon.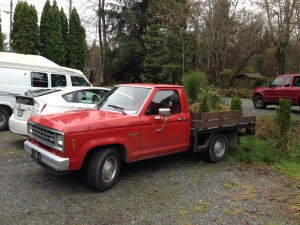 I think this will certainly change how we do a lot of things around here. The small flat deck will be more useful than a regular pick up box and is very convenient for hauling bee hives around.